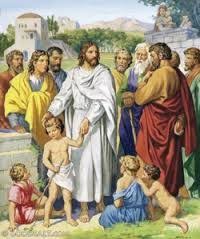 Entrance Antiphon cf. Dn 3:58
Angels of the Lord, bless the Lord, praise and exalt him above all forever.
Collect
O God, who in your unfathomable providence are pleased to send your holy angles to guard us, hear our supplication as we cry to you, that we may always be defended by their protection and rejoice eternally in their company. Through our Lord…
FIRST READING
My angel will go before you.
A reading from the Book of Exodus (Exodus 23:20-23)
Thus says the Lord, "Behold, I send an angel before you, to guard you on the way and to bring you to the place which I have prepared. Give heed to him and listen to his voice, do not rebel against him, for he will not pardon your transgression; for my name is in him, but if you listen attentively to his voice and do all that I say, then I will be an enemy to your enemies and an adversary to your adversaries. My angel will go before you, and bring you in to the amorites, and the hittites, and the perizzites, and the canaannites, the Hivites, and the jebusites, and I will blot them out.
The word of the Lord.
RESPONSORIAL PSALM Psalm 91:1-2. 3-4. 5-6. 10-11 (R. 11)
R. For you has he commanded his angels,
To keep you in all your ways.
He who dwells in the shelter of the almighty,
Says to the Lord, my refuge,
My stronghold, my God in whom I trust! R.
He will free you from the snare of the fowler,
From the destructive plague;
He will conceal you with his pinions,
And under his wings you will find refuge.
His faithfulness is buckler and shield. R.
You will not fear the terror of the night,
Nor the arrow that flies by day,
Nor the plague that prowls in the darkness,
Nor the scourge that lays waste at noon. R.
Upon you no evil shall fall,
No plague approach your tent,
For you has he commanded his angels
To keep you in all your ways. R.
ALLELUIA Psalm 103:21
Alleluia. Bless the Lord, all you his hosts, his ministers that do his will. Alleluia.
GOSPEL
in heaven their angels always behold the face of my Father who is in heaven.
A reading from the holy Gospel according to Matthew (Matthew 18:1-5.10)
At that time the disciples came to Jesus, saying, "who is the greatest in the kingdom of heaven?" and calling to him a child, he put him in the midst of them, and said, "truly, I say to you, unless you turn and become like children, you will never enter the kingdom of heaven. Whoever humbles himself like this child, he is the greatest in the kingdom of heaven. Whoever receives one such child in my name receives me. See that you do not despise one of these little ones; for I tell you that in heaven their angels always behold the face of my father who is in heaven.
The Gospel of the Lord.
Today's Reflection
Angels are messengers of God, counted among heavenly beings saddled with different responsibilities like healing, announcing and defending. Archangels, and guardian angels are within the common rank of angels. It is our belief that every individual on earth has a guardian angel. As Jesus rightly noted in the gospel, when we live righteously, i.e. with a pure heart, our guardian angel who is before God intercedes for us before God. However, when we live sinfully we reduce the effect of that angel because there is no light shining enough to fan into a flame. To be like a child, as Jesus teaches, is to be pure at heart, sincere and to be at peace with one another. The intercession of the guardian angels sees us through life's hard and dangerous moments. Live righteously to continually kindle the potency of your guardian angel.