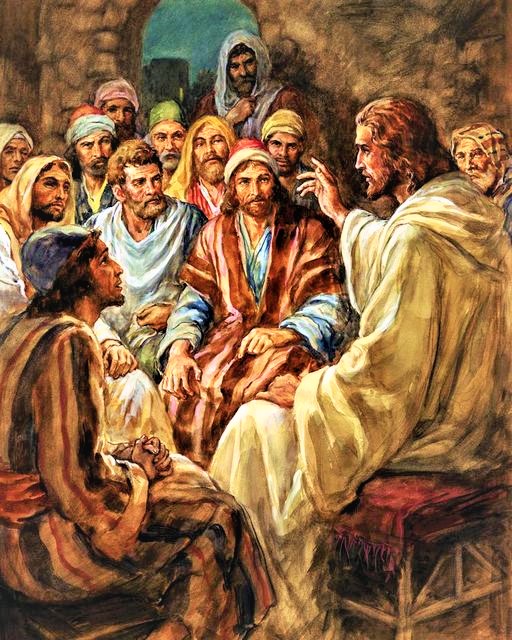 FIRST READING
"He came into the world to save sinners."
A reading from the first Letter of Saint Paul to Timothy 1 Timothy 1:15-17
Beloved: The saying is sure and worthy of full acceptance, that Christ Jesus came into the world to save sinners. And I am the foremost of sinners; but I received mercy for this reason, that in me, as the foremost, Jesus Christ might display his perfect patience for an example to those who were to believe in him for eternal life. To the King of ages, immortal, invisible, the only God, be honour and glory for ever and ever. Amen.
The word of the Lord.
RESPONSORIAL PSALM Psalm113:1-2.3-4.5a and 6-7 (R. 2)
R. May the name of the Lord be blest forevermore.
Or: Alleluia.
Praise, O servants of the Lord,
praise the name of the Lord!
May the name of the Lord be blest
both now and forevermore! R.
From the rising of the sun to its setting,
praised be the name of the Lord!
High above all nations is the Lord,
above the heavens his glory. R.
Who is like the Lord, our God,
who lowers himself to look down
upon heaven and earth?
From the dust he lifts up the lowly,
from the ash heap he raises the poor. R.
ALLELUIA John14:23
Alleluia. If a man loves me, he will keep my word, says the Lord; and my Father will love him, and we will come to him. Alleluia.
GOSPEL
"Why do you call me 'Lord, Lord, 'and not do what I tell you?"
A reading from the holy Gospel according to Luke (Luke 6:43-49)
At that time: Jesus said to his disciples, "No good tree bears bad fruit, nor again does a bad tree bear good fruit; for each tree is known by its own fruit. For figs are not gathered from thorns, nor are grapes picked from a bramble bush. The good man out of the good treasure of his heart produces good, and the evil man out of his evil treasure produces evil; for out of the abundance of the heart his mouth speaks. "Why do you call me 'Lord, Lord,' and not do what I tell you? Every one who comes to me and hears my words and does them, I will show you what he is like: he is like a man building a house, who dug deep, and laid the foundation upon rock; and when a flood arose, the stream broke against that house, and could not shake it, because it had been well built. But he who hears and does not do them is like a man who built a house on the ground without a foundation; against which the stream broke, and immediately it fell, and the ruin of that house was great."
The Gospel of the Lord.
Today's Reflection
Jesus calls us to examine our heart to find out what is stored there. Perhaps our heart stores up sorrow, anxiety and distress, prejudice, blame and irresponsibility. Whatever negative "treasure" we store in our heart will find a way out in physical pain, or in words and actions that may cause harm to others. Perhaps our heart is empty, with no compassion, kindness, humor, or sympathy stored up. Empty hearts display a tendency to remain isolated and indifferent to those in need. Or perhaps our hearts have stored up faith in God, forgiveness, humility, gratitude and joy. Whatever positive treasure we store in our heart will flow out of us and transform the world.